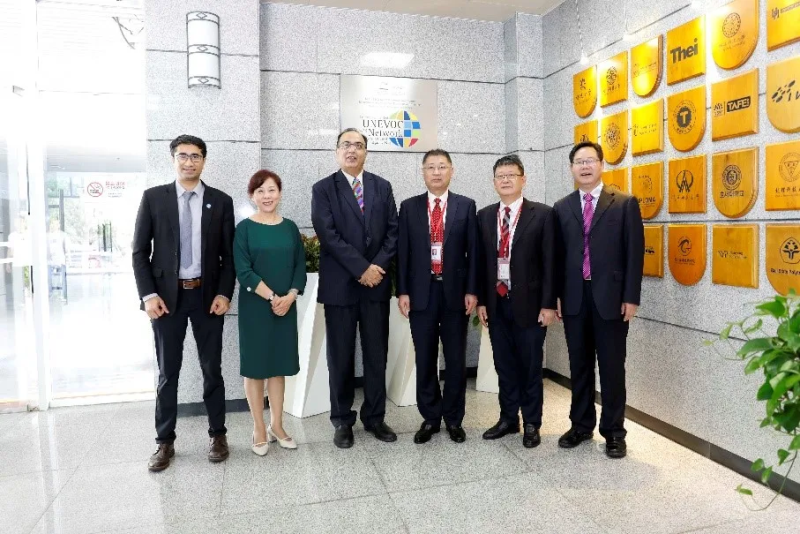 2021年5月26日,联合国教科文组织驻华代表处主任夏泽翰教授访问了位于中国深圳的深圳职业技术学院。深圳职业技术学院党委书记杨欣斌博士、副校长李月博士、教科文亚非中心主任杨文明博士以及外事处处长唐克胜教授对夏泽翰博士的访问表示热烈欢迎。双方就职业技术教育与培训的模式和实践,以及教科文组织与深圳职业技术学院的未来合作进行了深入讨论。
访问期间,杨欣斌博士代表深圳职业技术学院(以下简称"深职院")发表了演讲,并提出产业和教育之间的融合以及职教机构和私营部门之间的合作是推动职教积极发展的关键。他详细阐述了深职院在产教融合方面的实施框架,即"九个共同"的职业教育模式。该模式涵盖了职教项目群发展、治理和领导、课程开发、教师团队建设、研发中心建设、创新和创业教育等多个维度。夏泽翰教授称赞了深职院与私营部门的积极合作,并对该模式给予了充分肯定。他说,"九个共同"职业教育模式具有创新性和可复制性,可打造成全球样板模式向国际推广。
在杨欣斌博士和杨文明博士的陪同下,夏泽翰教授参观了深职院信通技术学院、机电工程学院和汽车与运输工程学院的培训中心,以及创新与创业学院的创客中心。参观过程中,夏泽翰了解了该校学生如何通过先进的设备与设施取得学习成果,校方如何在教学中应用5G和VR等新兴技术,以及支持学生参与研发、创新与创业活动。他赞扬了深圳职业技术学院的教与学方法论,并指出学院以培养具有高端技术技能和创新创业思维的高素质学生而闻名,是一家先驱的职教机构。
夏泽翰教授和杨欣斌博士都表示愿意进一步加强双方的深入合作与支持,并期待双方开展中长期的合作项目,共同推进区域乃至世界的职教发展与创新。
Prof. Shahbaz Khan, Director of UNESCO Beijing Cluster Office Visited UNEVOC Center at Shenzhen Polytechnic, China
Prof. Shahbaz Khan, Director of UNESCO Beijing Cluster Office, visited Shenzhen Polytechnic (SZPT) at Shenzhen, China on 26 May, 2021. The SZPT Board Chairman Dr. Yang Xinbin, Vice President Dr. Li Yue, Coordinator of UNEVOC Centre Dr. Yang Wenming and Director of International Office Prof. Tang Kesheng warmly received Prof. Khan. The two sides had a thorough discussion on the TVET model and practices at SZPT, and future cooperation between UNESCO and SZPT.
During Prof. Khan's visit, Dr. Yang Xinbin, on behalf of SZPT, delivered a presentation on "SZPT Solution to TVET in Pioneering to Make a World-Class TVET Institution". He proposed that the key to promising TVET is integration between industries and education and cooperation between TVET institutions and private sectors. He elaborated on SZPT's solution to such integration and cooperation, the "9 Joint Cooperation" TVET model. The "9 Joint Cooperation" are 9 approaches of cooperation between SZPT and enterprises, which are "jointly enhancing TVET governance and leadership", "jointly developing programme clusters", "jointly developing curricula", "jointly building an effective faculty team", "jointly building R&D centers", "jointly developing qualifications", "jointly offering innovation and entrepreneurship education", "jointly delivering enterprises-ordered class and skills training", and "jointly going global". Prof. Khan praised SZPT's "9 Joint Cooperation" model for its active engagement with the private sector, since industry's investment in education is crucial in TVET. He recommended that it should be replicated and promoted to the global TVET community.
In the company of Dr. Yang Xinbin and Dr. Yang Wenming, Prof. Khan visited the SZPT training centres under the School of ICT, the School of Mechanical and Electrical Engineering, and the School of Automotive and Transportation Engineering, and subsequently visited the Maker Centre under the School of Innovation and Entrepreneurship. Prof. Khan was shown how students achieved learning outcomes by working with advanced facilities, how emerging technologies such as 5G and VR are applied in teaching and learning, and how students were supported to engage in R&D, innovation, and entrepreneurship. He praised the TVET teaching and learning approaches at SZPT and pointed out that SZPT distinguished itself by cultivating high-caliber students with high-end technical skills and entrepreneurial skills, which makes it a pioneering TVET institution.
Prof. Khan, Dr. Yang Xinbin and Dr. Yang Wenming exchanged views on cooperation between UNESCO and SZPT. SZPT had already engaged in several UNESCO projects, including the UNESCO-UNEVOC i-hubs (Skills for innovation hubs) Project in 2019, the Skills Development Survey initiated by UNESCO, ILO and World Bank in 2020, the Bridging Innovation and Learning in TVET (BILT) program by UNESCO-UNEVOC in 2020, and the UNESCO-China Funds-in-Trust Project in 2021. Both Prof. Khan and Dr. Yang Xinbin expressed their will to further the cooperation and mutual support between the two parties.