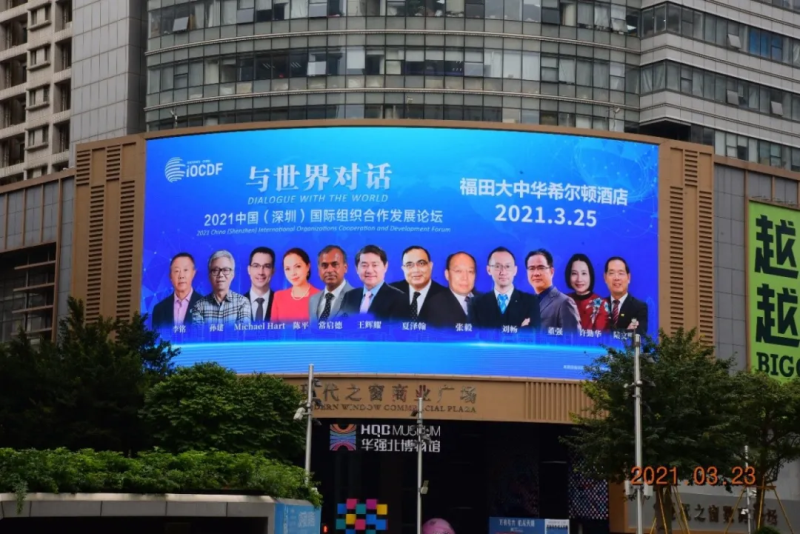 "联合国教科文组织运用其在教育、科学、文化和发展领域的长期规范和实践经验,致力于通过政策建议、技术支持和能力建设提升城市的可持续性。"联合国教科文组织驻华代表处代表夏泽翰先生在2021国际组织合作发展论坛中表示。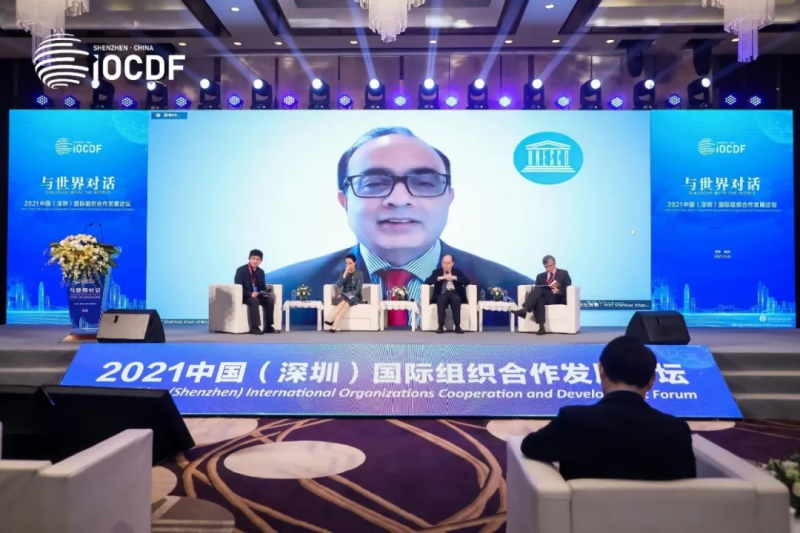 本次论坛由凤凰卫视、凤凰网和凤凰都市传媒共同主办,福田区宣传文化体育事业发展专项资金资助,云集超过百位国际政、商、学界专家学者,旨在打造高水准国际化开放性平台,并关注大湾区经济新趋势以及发展背后的核心动力与机遇。
深圳市福田区区长黄伟在致辞中说到:"深圳和福田也十分愿意为在深发展的国际组织提供一切必要的支持,共同推动深圳加快建成一个更具世界影响力的创新、创意、创业之都,建成一个全球真正的标杆性城市。"
本次论坛汇集了五大高峰圆桌对话,主题分别为:国际组织合作与城市国际化建设,全球变局下国际组织与企业合作发展,国际合作如何赋能深圳科技创新发展,全球视野下的人才竞争力与人才赋能以及可持续发展,绿色发展的新路径。
"Dialogue with the World" – The 2021 International Organization Cooperation and Development Forum opens in Shenzhen
"UNESCO is committed to enhancing the sustainability of cities through policy advice, technical assistance and capacity building, drawing on its longstanding normative and operational experience in the fields of education, sciences, culture, communication and development." Said Prof. Shahbaz Khan, Director and Representative of UNESCO Beijing Office at the 2021 China (Shenzhen) International Organization Cooperation and Development Forum, on 25 March 2021.
Organized jointly by People's Government of Futian District of Shenzhen City and Phoenix TV, the forum gathered over 100 delegates from international organizations, universities, NGOs, private sectors and enterprises, with the aim of establishing a high-level international open platform which focuses on the core driving forces and opportunities that promote new trends and developments in the economy of the Greater Bay Area.
Mr. Huang Wei, Mayor of Futian District, Shenzhen inaugurated the forum by stating, "Shenzhen welcomes more international organizations to collaborate with and to settle in Shenzhen in the future. Futian District will provide all necessary support for international organizations, to help Shenzhen become a truly benchmark city around the world.
The Forum is organized with five roundtable discussions, thematic topics including: International Organization Cooperation and Urban Internationalization Construction, Cooperation and Development of International Organizations and Enterprises under the Changing Global Landscape, How International Cooperation Empowers Scientific and Technological Innovation and Development in Shenzhen, Talent Competitiveness and Empowerment from a Global Perspective and Sustainable Development: A New Path to Green Development.